Father's Day is the Perfect Time For Grilling!
Give him a Father's day filled with grilling, surrounded by family, and full of memories! Here is our fathers day gift guide for the Dads who love to grill!
Twin Eagles 42" Grill with Base and Storage Drawers
Not ready to build an outdoor kitchen or your backyard does not provide the space? Or do you simply want a grill on a cart?
This Made in the USA, 42" Grill by Twin Eagles is a perfect choice for performance and quality.
Equipped with three 25000 BTU burners in two different configurations and constructed of high quality 304 stainless steel. The cart features one soft close door and 2 soft close drawers and is manufactured from 304 Stainless. The high-grade briquettes distribute and radiate heat evenly to the cooking surface. 3/8" Stainless hexagonal grates provides more food-to-surface. Easily light the grill through the control knob with the reliable hot surface ignition. Hood Activated Interior lights allows for nighttime grilling. Includes a large capacity smoker box. Simply use in place of 6" briquette tray and create intensely flavored food. The zone dividers separate each burner to regulate different temperatures (zones). Truly a masterfully designed and engineered outdoor appliance.
Zephyr Presrv 24" Outdoor Refrigerator
Never be without cold beverages with the Zephyr Presrv 24" Outdoor Beverage Cooler. It is Built with corrosion-resistant 304-grade stainless steel and has the BEST warranty around!
Includes a Full-Extension Wire Rack to hold your favorite beverage. Also features PreciseTemp multiple internal sensors help maintain accurate temperatures
Warranty - 2 year parts and 1 year labor warranty along with a 5 year warranty on the compressor
Hickory Flavor Wood Chunks
Hickory Flavor Wood Chunks allows you to enjoy delicious Hickory smoke flavor to your food using wood chunks. Grilling is all about flavoring your food. This is why we love smoking chips!
TEC Best Dad Ever Spatula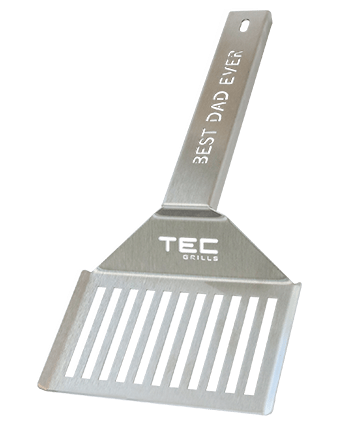 What a great gift for dad! The TEC Best Dad Ever spatula is 6.5" wide and great for flipping all your favorite foods. Constructed of 18 gauge 304 stainless steel, it's heavy duty and more durable than anything we've seen. Made in the USA
Flame Boss 500 WiFi Temperature Controller - FB-500
Set it and Forget it! The Flame Boss 500 monitors up to three meat temperatures without the need for Y-cables. Each probe has a 6-foot cable and connects to the controller with a straight plug. Sit on a table or counter and monitor your display settings. Includes magnet in the base if you want to mount without using the fasteners.
Includes: WiFi controller with blower and grill adapters, (1) high temperature meat probe, (1) high temperature pit probe, (2) probe cord organizers, and a power supply.
Solaire Anywhere Infrared Portable Grill
OL-IR17B - Solaire Anywhere 304 Stainless Steel Portable Grill is a hot little infra red grill to take anywhere like Tailgating. It's even great for condos or apartments. The infrared maintains consistent heat and is unaffected by wind making it a great grill for a boat. Best of all you should ever need replacement parts they are available. This is important as we find many tabletop grills that are mass merchandised failing to have any repair parts.
Weber RapidFire Charcoal Chimney Starter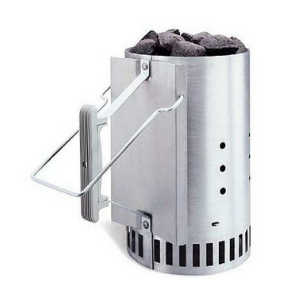 Weber Chimney starter get coals ready quickly with our extra large canister.
Holds enough briquettes for a 22-1/2 kettle.
Napoleon Prestige P500 Grill on Cart
Napoleon Prestige 500 Grill on Cart has 4 burners and has a total BTU of 48,000. This grill does not have a rotisserie or side burner. It is a high quality budget friendly grill with an outstanding warranty. Compare with the Weber Genesis II S-435 Closed Cart Grills.
Napoleon Prestige 500 Grill Features :
Patented 7.5 mm Stainless Steel WAVE Cooking Grids
4 Burners
Super Seep Warming Rack with lots of space.
760 sq in TOTAL cooking area (includes warming rack)
Premium Stainless Steel Construction
Dual-Level, Stainless Steel Sear Plate
Control Knobs with Safety Glow
INSTANT JETFIRE Ignition starts each burner individually for reliable start ups - EVERY time.
Does not come with Rotisserie kit or Rotisserie Burner
by

BBQ Depot